Large Glass Bottle France
early XX century
This is a large bottle usually glass, sometimes sandstone, protected by foam, straw or wicker woven into the very walls and used for storage and transport of food, beverage and other liquids (alcohols, acids, etc..). Spherical, flattened at the base, they are surmounted by a neck of about 50 mm in diameter. The capacity is from 5 to about 50 liters.
For oil, the demijohn is normally ceramic and has handles. For wine, it is glass and has no handle.
History:
Driven from his kingdom of Naples, Queen Jeanne took refuge in 1347 in his county of Provence through the Grasse road to Draguignan. Surprised by a violent storm, he pointed to the small castle of asylum gentleman glassmaker in the hamlet of "Saint Paul Gallina Grasse."
After spending the night, the Queen wanted to see make the bottles. A little disturbed, the glassmaker blew the jaws of his cane, and realized a huge bottle that was admired by all its capacity of ten liters. He decided to start manufacturing and Jeanne-called queen, but the sovereign modestly suggested to give him the name demijohn. To protect the large bottle, the glass maker dressed the wicker.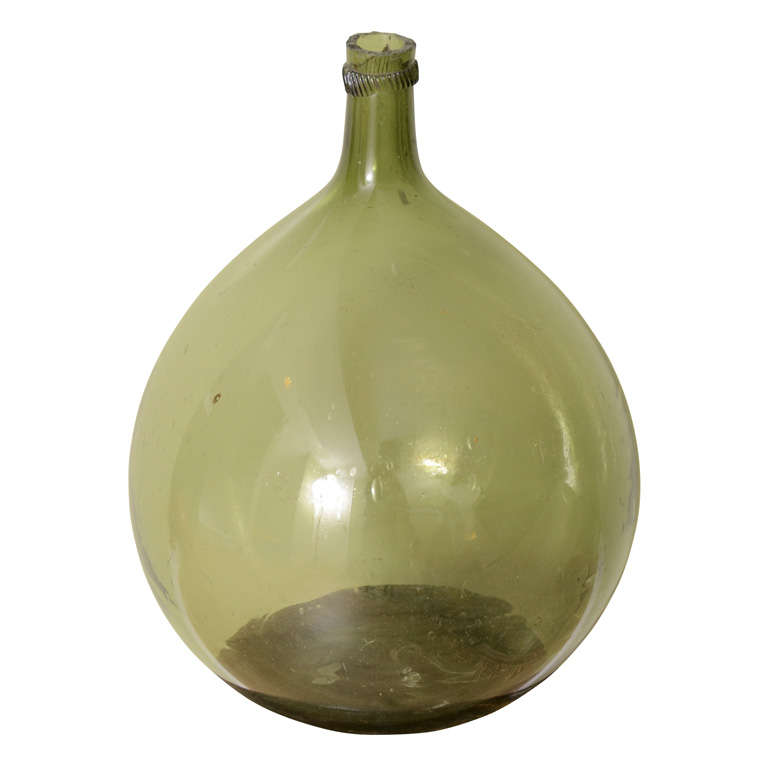 Price
$375 for the entire lot.
Condition*
very good
Measurements
height: 18.25 in. (46 cm)
diameter: 11.5 in. (29 cm)
Specifications
Number of items: 1
Materials/Techniques: blown glass
Creator: unknown
Ref. : 120229916864